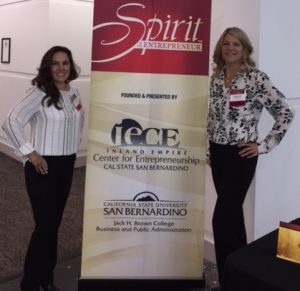 FINALISTS ANNOUNCED FOR 2017 SPIRIT OF THE ENTREPRENEUR AWARDS!
SAN BERNARDINO, Calif., September 29, 2017 – The Inland Empire Center for Entrepreneurship (IECE) at Cal State San Bernardino announced the finalists for this year's Spirit of the Entrepreneur Awards program. 27 entrepreneurs were selected from a pool of nearly 200 nominees. The 32 semi-finalists participated in a reception on September 28 sponsored by RP&B CPAs, where they interacted with the event judges. Immediately following the reception, the judges convened to select the finalists. The finalists for the event will compete for the Spirit of the Entrepreneur award in eight (8) different categories at the 15th annual awards black-tie gala on November 14 at the Riverside Convention Center. Winners will be announced at the event.
FINALISTS INCLUDE:
Manufacturing Entrepreneur
Mike Konrad, Aqueous Technologies – Corona
Cheryl Young & Jennifer Hall, Ejay Filtration, Inc. – Riverside
Loren Hanson & Dave Haffter, Fusion Sign and Design – Riverside
Kathy Bodor, Plastics Plus Technology – Redlands
Tickets for the Spirit of the Entrepreneur Awards program are available HERE. The gala event includes a cocktail reception, dinner, entertainment and awards. For more information call (909) 537-3708 or email Mike Stull.