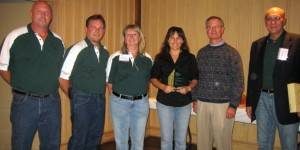 Ejay Filtrations  Vice President attended Triumph Actuation System's annual "Supplier Symposium" in Clemmons, North Carolina..
With over 50 suppliers in attendance at the event, Triumph Actuation Systems presented two companies with their Gold Suppliers Award for "Outstanding Quality and Delivery Performance", and Ejay Filtration Inc. was one of the two companies honored.
Vice President Jennifer Hall said "What a terrific honor to receive such an award. This is quite an achievement for our Company and is a testimony to the dedication and hard work of every team member at Ejay Filtration".
Ejay Filtration. is a leading manufacturer of stainless steel woven wire mesh filters and is a privately held company based in Riverside California.